Biography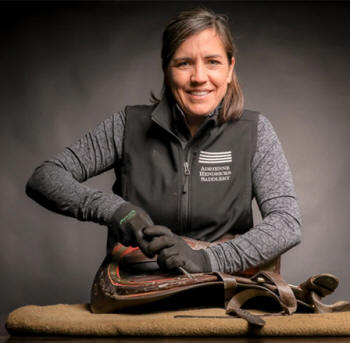 Adrienne Hendricks is a passionate horsewoman who left her professional life as a stockbroker to follow her true passion of saddle making and also specializes in the restoration and repairs of saddles and other equestrian leather goods. Adrienne grew up riding horses in Boise, Idaho riding Dressage, Combined Training, Hunters, Jumpers and Endurance Riding. She is a Graduate H-A Pony Clubber. She is riding 4th level dressage on Cricket, her Thoroughbred/Hanoverian cross mare and is also working with a new partner, Filomena, a Friesian.
As a child, she loved fixing her own tack and became quite efficient at doing it. She met Suzie Fletcher, a Master Saddler from England, while Suzie was living here in the US. Adrienne became Suzie Fletcher's apprentice, loved the work so much, that she left her professional career as a stockbroker. When Suzie left to return to England, Adrienne took over her workshop here in the United States. She is partners now with Suzie and manages the US repairs and remains working as Suzie's apprentice towards Master Saddler.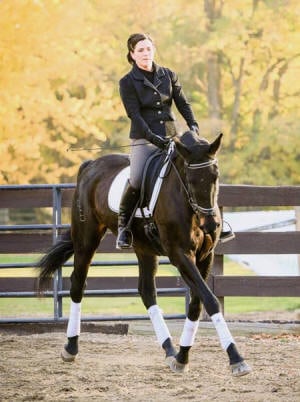 Adrienne is passionate about educating riders on saddles and tack and how a good fitting saddle can make all the difference in performance, soundness for horse and safety for both horse and rider. Adrienne is available to serve as an expert witness, consulting expert and adviser on equine related lawsuits with The Equine Expert LLC. To contact Adrienne, please email her at info@theequineexpert.com.
View Curriculum Vitae
View Certificates