Biography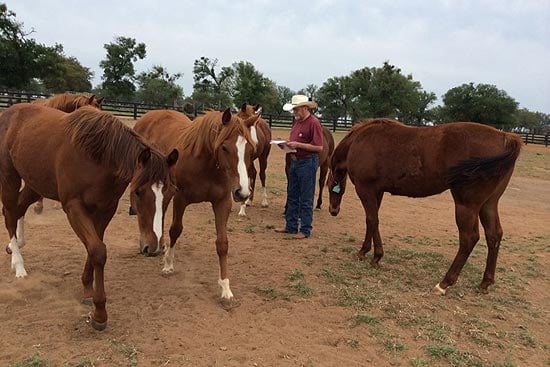 Mike Robbins is a native Texan growing up in the small West Texas town of Sanderson. As a teenager he became skilled at breaking horses, and he rodeoed in High School and College. He was mentored by the legendary James Chapman, who introduced him to Quarter Horse racing. Mike began training for the public in 1978 and enjoyed national success with horse racing greats such as AQHA World Champion Sgt. Pepper Feature, Dashs Dream and Special Leader.
Mike knows his way around a track, racehorses and how to train top champions. Mike Robbins won the Champion of Champions Quarter Horse race three times in 10 years, the championship race for Quarter Horses held at Los Alamitos Racecourse in Cypress, California. Mike had his first AQHA World Champion, SGT. Pepper Feature, in 1981. SGT. Pepper Feature won 11 straight races to be named 3-year-old champion in that year and as a 4-year-old won the prestigious Champion of Champions. 13 of his 20 wins were stakes races. He was retired to the Kentucky Horse Park, representing the American Quarter Horse Breed, and was buried there after his death in 2003.
Robbins then teamed up with owner Joe Kirk Fulton and captured his 2nd AQHA World Championship with Dashs Dream in 1984. Dashs Dream won the All-American Classic, the Los Alamitos Derby, HQHRA Championship, Go Man Go Handicap, and the All-American Derby. In 1991 Robbins campaigned his 3rd AQHA World Champion, Special Leader.
Mike took an 18-year hiatus from racing and changed careers to equine dentistry. Beginning in 1995, he attended Dale Jeffries Equine Dentistry School. This career offered him the opportunity to work with Grande Prix quality Sport horses, hunter-jumpers, dressage, barrel horses, and halter horses, opening up a new world and expanding his horsemanship exponentially.
Robbins closed out his race training career at Los Alamitos Racecourse with a victory in the Grade 2 Southern California Derby in 2021 with A Dash Of Sign. Winning his last start at Los Alamitos, where he spent the majority of his training career was the perfect way to end his tenure in southern California. He trained one more year before retiring at the end of 2022.
Mike is a highly accomplished horse trainer with an illustrious career spanning four decades, training and racing at the top venues in the United States. Mike Robbins is in an elite group of only 4 trainers to have ever won the Champion of Champion title 3 times. He has earned top accolades including three World Championships and fifteen Divisional Championships. He was inducted into the Texas Horse Racing Hall of Fame in 2020. The Texas Horse Racing Hall of Fame memorializes horses, jockeys, trainers, and breeders who have significantly influenced and contributed to the history of Quarter Horse and Thoroughbred horse racing in Texas.
Mike is now retired from Quarter Horse racing and is working as a short-lister for buyers in the thoroughbred industry. As a short-lister in the Thoroughbred industry he uses his eye for equine to talent to scout prospects for owners, investors, and trainers. He also spends his time working as a consultant in a performance horse program. His contribution, development, and growth of the horse racing industry is unmatched, and he continues to be a respected figure in the racing community.
View Curriculum Vitae