Biography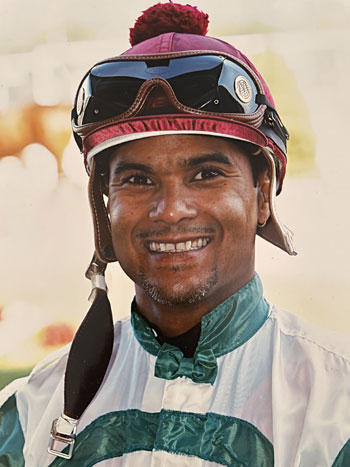 Jose R. Martinez has been around the thoroughbred race track since he was 16 years old. He obtained a license to ride thoroughbreds in 1987 and began exercising horses at Belmont Park and Aqueduct. He began his career as a jockey in 1988 and never looked back. Besides racing in the United States, he has raced, as well as tried horses for buyers, in Saudi Arabia, Qatar and England. He lived in Riyad, Saudi Arabia and was under contract with King Abdelaziz for 9 months while racing and traveled multiple times to Saudi for invitational rides. In 2001, He won the Grade 1 Saudi's Kings Cup aboard Early Warning, trained by Todd Pletcher and owned by King Abdelaziz.
Besides racing successfully around the globe, Jose Martinez has won numerous prestigious races here in the States, such as, in 1994 The Locust Grove, Churchill Downs, aboard Life is Delicious; in 1995, Excelsior Handicap, at Aqueduct, aboard Iron Gavel; in 2001, the Indiana Futurity, aboard Pemaquid Point; and in 2013, Pelican Stakes, Tampa Bay, riding Roman Candles, just to name a few. He has raced for great trainers such as Todd Pletcher, Dwayne Lucas, Bob Baffert, Dallas Stewart, Kenny McPeek, Brad Cox, Allen Jerkens, Diane Frisco, Faustino Ramos, Denise Cotrone and Steve Asmussen.
Being a jockey runs in the family. Jose Martinez, Sr., his father, was a jockey and Jose's son, Joey Martinez, is currently a jockey. Jose grew up in the business with his dad showing him the ropes, and Jose is passing his knowledge down to his son, Joey, who is now a successful jockey. For 20 years Jose assisted his father with the management and operations of a Thoroughbred rehabilitation farm located in Ocala, Fl. His father just recently retired and sold the farm.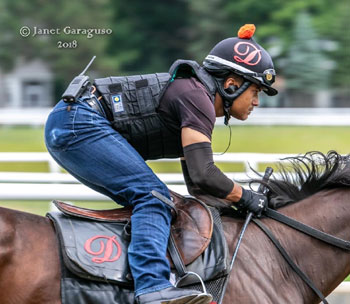 Jose himself is now a retired jockey, but still enjoys exercising horses on the track and enjoying the career of a thoroughbred trainer. He has several horses he is training for clients and is training some of his own personal horses. He has been in the saddle since he was 6 years old and riding thoroughbreds since age 16. As an accomplished retired jockey, he is helping his son fulfill his own dreams, as Jose himself, puts his lifelong experience of thoroughbred racing into training. He understands how dangerous the sport can be, how horses have inherent natural responses and if you are not aware of the horses language, or understand the necessity of rules to safeguard horse, human and spectators while at the track or a training facility, many things can go wrong.
Through his lifelong experience with and passion for the thoroughbred industry, he hopes he can put his knowledge and experience into helping the horses as well as those who love and are involved in the industry.