Biography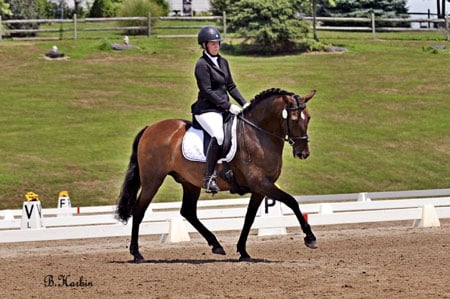 Tanja Schnuderl's extensive knowledge and experience in both the legal and equine professions created the perfect foundation for her career as an equine expert witness.
Tanja grew up riding and showing horses in Germany. She had her first riding lesson at the age of seven. An Oldenburger gelding named "Noblesse Oblige" became her four-legged partner for many years and started her lifelong passion for horses. When she moved to the US seven years ago, she brought her international equestrian experience and continued to ride and show horses here in the US.
Tanja's professional experience started in the legal industry. After being certified as a legal secretary and specialized in bankruptcy law, she was part of a high-profile law firm in Germany for over nine years. In 2013, Tanja was offered a position in the International Department of the renowned law firm Smith, Gambrell & Russell, LLP in Atlanta, GA and moved to the US. In addition to gaining working knowledge and valuable insights into the American Legal System, Tanja earned her Bachelor of Law Degree (LL.B.) from Euro-FH in Hamburg, Germany.
Tanja's professional demeanor, expertise with horses and European knowledge of Sporthorses provided a career path to working with horses' full time. Tanja's trainer and owner of Moon Rising Farm in Boyds, MD recognized Tanja's skill and professionalism and began asking Tanja to ride her own young horses. Soon other boarders began asking Tanja for assistance with their horses and horse care tips used in Europe.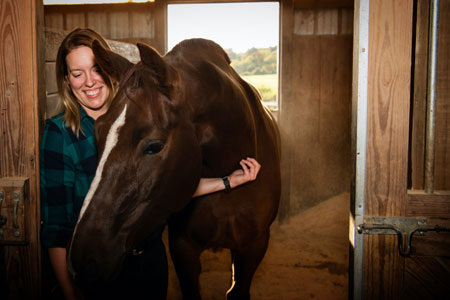 When Tanja was offered the position as barn manager at Moon Rising Farm, she jumped at the opportunity to be involved with horses on a full-time basis. Moon Rising Farm is a long-established private horse boarding facility with 28 horses, just outside of Washington, DC. Moon Rising Farm's outstanding equine management provides the best possible care with premium feeds, state of the art amenities and training, all tailored to every horses' individual needs. Tanja's management responsibilities of the full-service equine facility include feeding customized equine diets, taking care of injuries, monitoring horses for signs and symptoms of sickness or discomfort, administrating supplements and medicines, managing feed orders, and working together with farriers and vets. Implementing barn rules and protocols and keeping a watchful eye on horses and customers are additional responsibilities within the scope of her position as barn manager, in order to ensure the safety of riders, horses and boarders and keep the facility running smoothly on a day to day basis.
Tanja is also a member of the American Society of Equine Appraisers and has established her own equine appraisal business, Sigma Equine, LLC.
Tanja is an active member with the United Stated Equestrian Federation (USEF) as well as a participating member with the United Stated Dressage Federation (USDF) and competes at dressage shows on a regular basis. Tanja was awarded a USDF University diploma as recognition for her continuing education on horse care and dressage topics.
Tanja Schnuderl is a consultant and expert witness with The Equine Expert LLC with specialties in barn management, behavior and appraising.
View Curriculum Vitae