On a recent visit to my feed store, I noted the vast number of brands and products available, and it's easy to understand the confusion many owners feel when selecting a feed. Owners are confronted with an incredible number of choices, with different brands promoting a variety of products, and touting all sorts of claims. At my local feed store, I counted 13 different brands and 57 different products. These were comprised of; Beet pulp (3), Hay cubes/pellets (9), Senior (6), Junior/Growth/Breeding (6), Balancers (2), Special diets (5), Rice Bran (6), Pleasure/Allrounder/Maintenance (11). Feed rates were between 1lb/day and 8lb/day for a 1000lb horse depending on the product. Bags were 30lb, 40lb or 50lb and prices ranged from $13.99 to $54 per bag.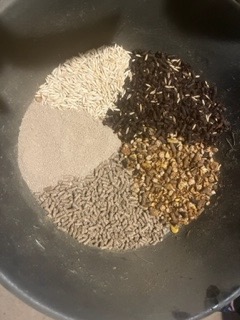 Back in the day, there wasn't nearly this selection of premixed horse feeds, most owners mixed their own which certainly required education and. Today, feed companies provide the convenience of pre-mixed feeds, taking the hassle and guess work out for most owners. This though, has led to a lack of general knowledge in horse nutrition for many owners. Being able to see through all the marketing gimmicks and hype, along with understanding your individual horses needs will help assess which feed might be suitable. I can't stress enough the importance of understanding basic horse nutrition and reading labels.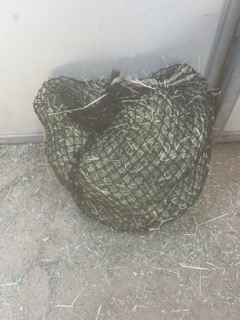 When it comes to ingredients, those such as "grain products", "wheat middlings", "mill run" are a byproduct of grain processing for other industries and are often low quality, but regularly used as a major ingredient in many feeds. Corn and soy products are also used frequently and there is growing concern regarding the use of these.
Understanding feed rates and comparing these between products is also useful. If you aren't feeding the recommended amount, it's unlikely your horse is getting the nutrition the product is designed to provide. Comparing feed rates between products along with calculating the price per pound is an easy way to choose more economically as well. Read carefully! Some products provide a feed rate for different horse weights, while others provide a pound per 100lb bodyweight guide and check the weight of the bag, as they do vary.
Your horses' diet is vital to his health and wellness, as well as his performance. Becoming more informed regarding general horse nutrition, feed companies, ingredients and being a little savvy when comparing products will hold you in good stead to select an appropriate feed. There are many independent nutrition consultants that can further assist you to understand your horses' individual needs and formulate a diet to meet their demands as well as be economical and practical for you.
---

Jenni Fugate is a team member of The Equine Expert LLC, a multi-discipline equine expert witness and consulting firm offering legal expert witness and consulting services in court cases, legal matters, appraisals, and business affairs. Jenni is an expert in Arabians, Teaching, Dressage and Biomechanics. She is a native of Australia and has been working with horses since she was a child, she studied at Melbourne University and graduated with a Bachelor of Applied Science (Equine). She now lives in Utah on her farm where she trains and teaches. For more information on Jenni visit www.theequineexpert.com or you may contact Jenni at Jenni@theequineexpert.com. The opinions expressed are those of Jenni as an expert equestrian.