You might think what the connection between Christmas and horses is. In fact, this festive period is ideal to spruce up the pastime with your hooved friend. You don't need to give up your horse to celebrate winter holidays indoors.
Once we have a strong bond with an equine, we can't get enough. Quite the opposite, use this opportunity to spend even more time with your bestie. Christmas is a family holiday, right? So don't forget about your horsey! And there are a few ways to slay this holiday with your companion. Let's trot on over to celebrate Christmas with a horse.
Make Special Treats
Naughty or nice? Hope your fellows have been a good girl and boy and they deserve a Christmas treat. Think of special yummies that will make your horse feel chuffed to bits these days.
Equines are fond of apples, honey, raisins, molasses, and sugar cubes. Thus, you can cook horse cookies or a carrot pie to make your companion extremely happy. But please mind the portions as you don't want your horse to end up with colics on Christmas.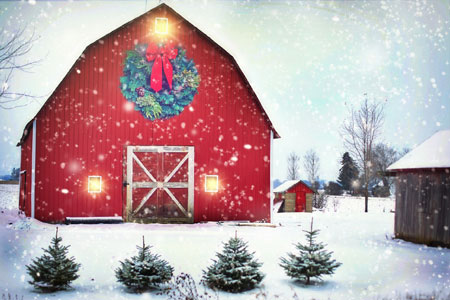 Image by JillWellington on Pixabay
Decorate Your Barn for Christmas
Christmas is all about the decorations. The more trinkets we get, the better our mood is. How enjoyable these special moments are when we're dressing up home inside and outside. Some people may find this decorating even soothing after a rough day.
The same should go for a horse barn. Let's spice up the ranch with holiday knick-knacks too! There are loads of stunning ideas you may find on the Internet. For instance, you can use garlands and LED lights to add shiny sprinkles to the walls and corners. But don't overdo with the lights. Make sure your horse isn't afraid of them and can't reach the garlands. Hide all the wires so the hooved pal can't chew them.
Instead of hanging the lights all over the barn, you can arrange one Christmas nook and make a figure with the lights. Image how awesome it would be to create the shape of your horsey with the LEDs! If it seems too complicated, no probs, Christmas garlands around the wooden poles look classy too.
Another important thing to consider is a Christmas stocking. You could even order the sock with your horse's name embroidered on it. There you can store special yummies for your companion and treat him if he's been nice this year. But again, remember to set the stocking away from the horse to save the treats.
And a Christmas wreath is the cream of the crop. Place it on the front door to show this barn is saturated by the joyful spirit. Drape some lights over the wreath to shine bright. If you're afraid that the wreath may contain toxic plants for horses, there's a way out. There are artificial wreaths available on the market that look like real ones. Besides, if you're a fan of DIY, why not make a fascinating wreath from paper and save a few bucks!
Dress Up Your Horse
The time is ripe to change your horse's apparel. Christmas is a great option to do a sweet photo shoot with a hooved pal. Think over Christmas matching costumes for you and your companion. This could be Santa and Elf, Rudolf and Dasher, Grinch and Krampus, etc. The only limit is your imagination (and budget).
Another tremendous idea is to take pics of both of you wearing Christmas socks! Look for red protective boots or wraps for your companion to finish this chic look and you're done. We bet you'll remember this holiday for the rest of your life.
Play with Your Buddy
Let's show the world how awesome your equine is dressed up with Christmas attire. Take the horse for a walk to stretch out a bit. Don't forget to pet and treat your buddy on the way. If there's no option to go out and about, you can stay at the pasture and play.
Ball games are great for bonding with a horse. In fact, they help to develop confidence and rhythmic motion. All you need is a big ball and a wee bit of patience. Introduce the toy to the equine first. Let him know there's nothing threatening in this round stuff. Make a few steps back from the animal and start bouncing the ball. When you feel you catch your horse's attention, start walking away from the companion while he's approaching you. Keep bouncing the ball.
When the horse feels confident enough about the ball, try rubbing the equine with the ball first. Then gently bounce the toy off the horse. Expect to repeat these actions over and over until the horse gets what you want. Once the buddy gets the hang of it, you'll get an ideal basketball player!
The Bottom Line
No matter if there's a special occasion or not, your horse is worth your attention. Make this holiday truly blissful by spending time with your little one. Think of Christmas treats to make it special for your companion too. Decorating the stalls could bring more joy and excitement that we all deserve. Wish you happy holidays!
---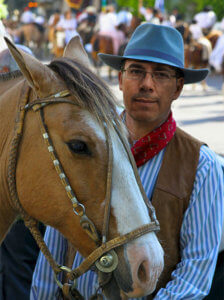 About The Author:
David Garcia considers himself a huge fan of equestrian sports. Being born in a family of farmers, he was literally living at the ranch. His first riding experience was when David was six. He was so fascinated with the grace and intelligence of horses so he decided to plunge into equestrianism deeply. Thus, he's been participating in a range of horse races and shows where he often grabs medal positions.
David believes that we could be better by sharing our experiences. That is why he founded Horsezz – the blog that is dedicated to equestrian sports.